Geniee uses adserve by Geniee SSP for Apps and
Geniee Apps DMP to maximize the revenue of developers
of ad-based apps and apps that place ads on ad networks.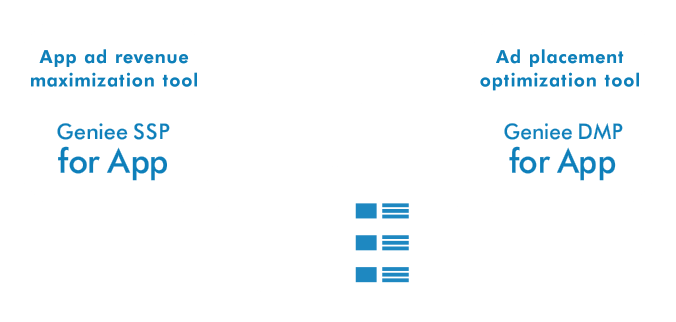 Maximizes revenue opportunities by sending ad requests preferentially to the app developer(s) expected to generate the most revenue real time.
6 Advantages of Geniee SSP for Apps

1. Real-time optimization

Automatically adjusts the appropriate allocation ratio on a regular basis.

2. Detection of empty ads

Prevents inventory shortages in order to increase fill rates.

3. Wide range of ad types

Enables monetization at various points within the app (e.g., after specific events).

4. Support for publishers' ad network accounts

Can also update and optimize reports of ad networks that publishers are directly working with.

5. Handles world wide traffic

Can also monetize world wide users.

6. Delivery of house ads

Of course, Geniee can also serve house ads.
Applications and inquiries

The only tool in the world that can analyze the revenue effect from ad placements.
Enables optimization of ad placement by visualizing
the ad revenue of users acquired from the ad placement.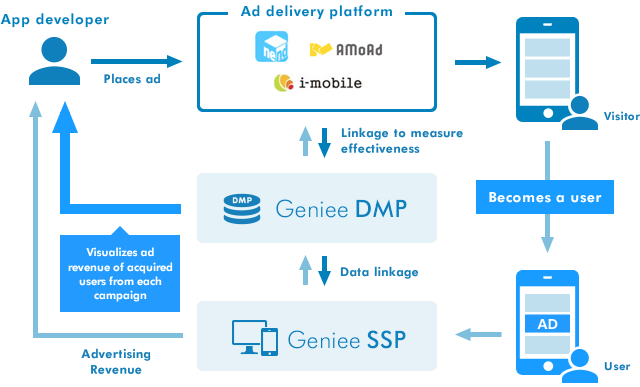 Advertising Revenue
Visualizes which ad network would maximize revenue for an ad placement.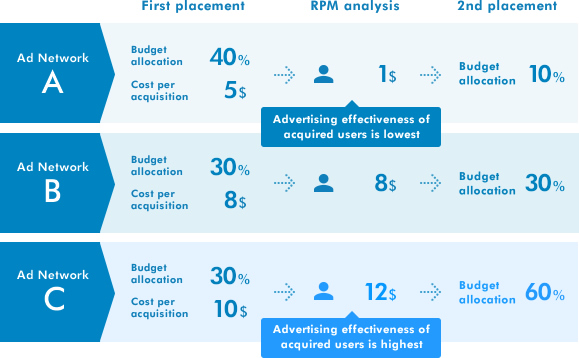 Geniee DMP for Apps plans
| | Free plan | Paid plan |
| --- | --- | --- |
| Usage based rate (MAU) | Free | MAU 0.6 yen - |
| Monthly fee (RPM) | - | 100,000 yen/company |
| Number of registered apps | No restrictions | No restrictions |
| Monthly users (MAU) | Up to 300,000 MAU | No restrictions |
| Data | Public | Private |
Analytics function
Standard Insight
| | Free plan | Paid plan |
| --- | --- | --- |
| DAU | ◯ | ◯ |
| MAU | ◯ | ◯ |
| Number of installations | ◯ | ◯ |
| Number of launches | ◯ | ◯ |
| Launch rate | ◯ | ◯ |
| Frequency | ◯ | ◯ |
| Continuation rate | ◯ | ◯ |
| Inactive users | ◯ | ◯ |
Monetized Insight
| | Free plan | Paid plan |
| --- | --- | --- |
| Sales | ◯ | ◯ |
| Paying users | ◯ | ◯ |
| Billing rate | ◯ | ◯ |
| ARPU | ◯ | ◯ |
| ARPPU | ◯ | ◯ |
Custom Insight
| | Free plan | Paid plan |
| --- | --- | --- |
| Coverage | × | ◯ |
| Number of events | × | ◯ |
| Event interaction rate | × | ◯ |
| App graph | × | ◯ |
| Cohort analysis | × | ◯ |
| Funnel analysis | × | ◯ |
Tracking function
| | Free plan | Paid plan |
| --- | --- | --- |
| Click | ◯ | ◯ |
| CVR | ◯ | ◯ |
| Install | ◯ | ◯ |
| RPM | × | ◯ |
| ROAS | ◯ | ◯ |
DMP function
| | Free plan | Paid plan |
| --- | --- | --- |
| BI tool | × | ◯ |
| Users list | × | ◯ |
See more details of the features of each plan