Appointment of New Directors at Overseas Group Companies
Geniee strengthens overseas office management structure and business promotion structure
Geniee, Inc. (Head Office: Shinjuku-ku, Tokyo; President & CEO: Tomoaki Kudo; hereinafter, "Geniee"), at its Board of Directors' Meeting today implemented the following changes to the respective executive structures of its five overseas group companies by naming three new directors.
1. New officers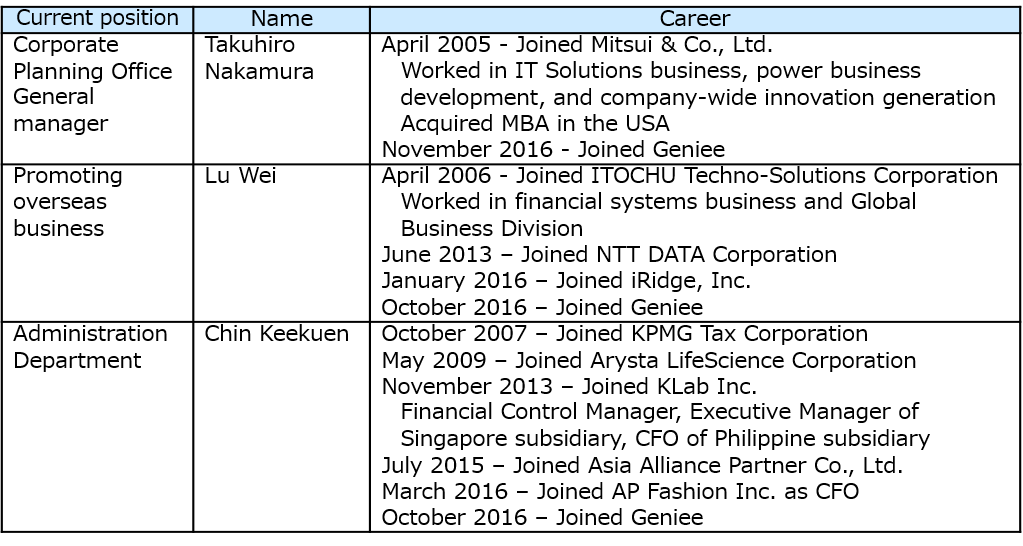 2. Reason for election
Since establishing our first overseas subsidiary in Singapore – Geniee International Pte., Ltd., in August 2012, Geniee has expanded our business into Vietnam, Indonesia, and China (Shanghai). Embracing the mission of "Ad-venture the Future", we have aggressively developed business in both Japan and throughout Asia.
By appointing new directors and changing our executive structure, we will strengthen our management structure and business promotion structure as we aim for the continued expansion of our business overseas.
3. New officer structure of the overseas group companies

For press inquiries regarding this matter

Geniee, Inc. Corporate Planning Office Public Relations
Mail: pr@geniee.co.jp